RECLAIMING BLACK FRIDAY: A FORWARD-
THINKING FUTURE FOR FASHION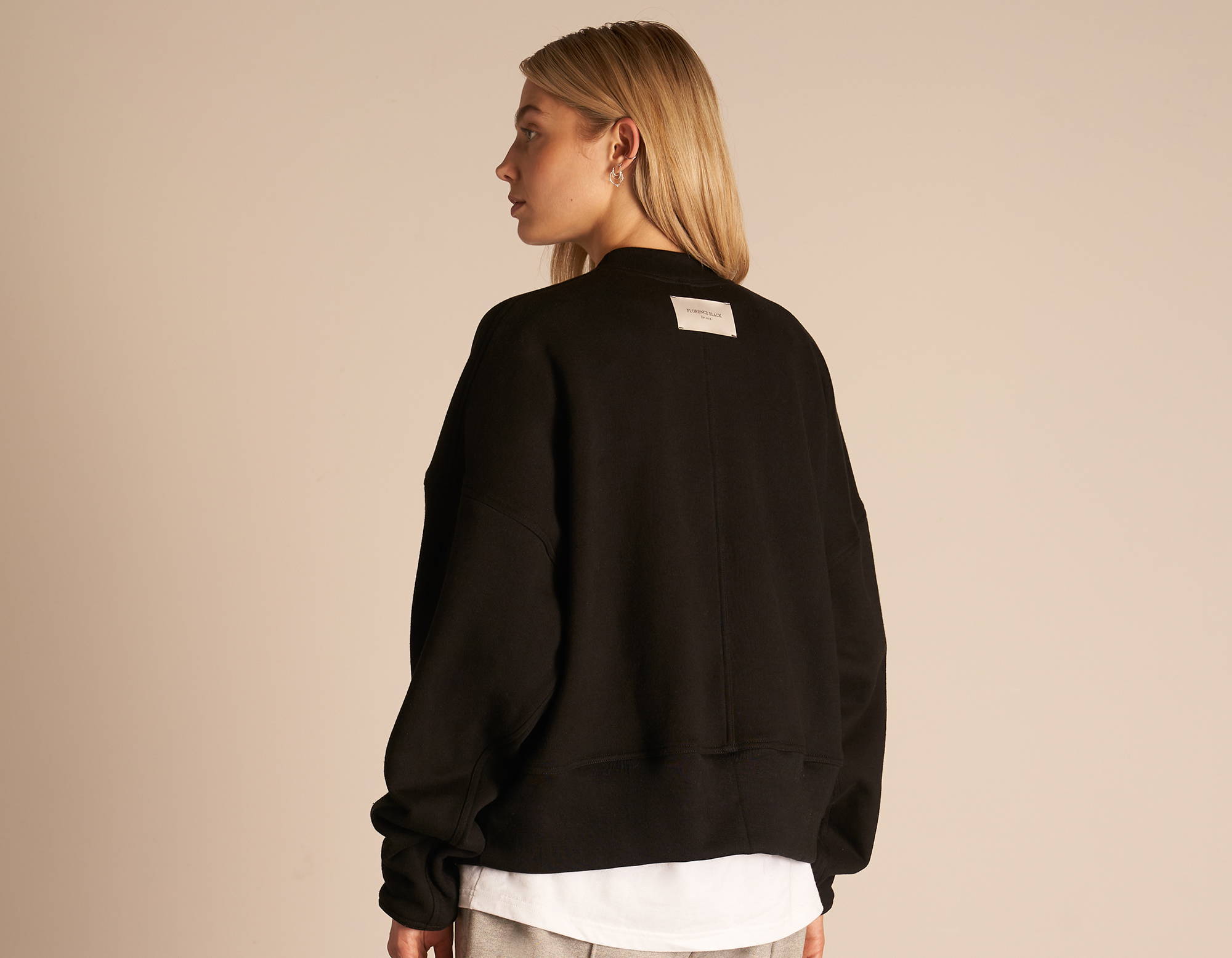 IS BLACK FRIDAY AS BAD AS THEY SAY?
These days, it's hard to escape the barrage of Black Friday deals with their enormous discounts, urging us to buy products that we never knew we needed. But is Black Friday as bad as they say? The answer - it's complicated and the devil is in the detail. For some of us, we wait until this particular time of year to make important purchases that cost us less. In the lead up to Christmas, heavy discounts also soften the blow of ever-increasing expectations, come Christmas Day. However, is this perpetual need to own more "stuff" being solved for in the wrong place? We'd argue, yes. If Vivienne Westwood's famous "Buy Less, Choose Well" mantra has become the north star for many forward-thinking brands, Black Friday is the antithesis. Where this event becomes particularly problematic is in the over-consumption of cheap, poor-quality items, with the extent of their true cost still hidden from public view.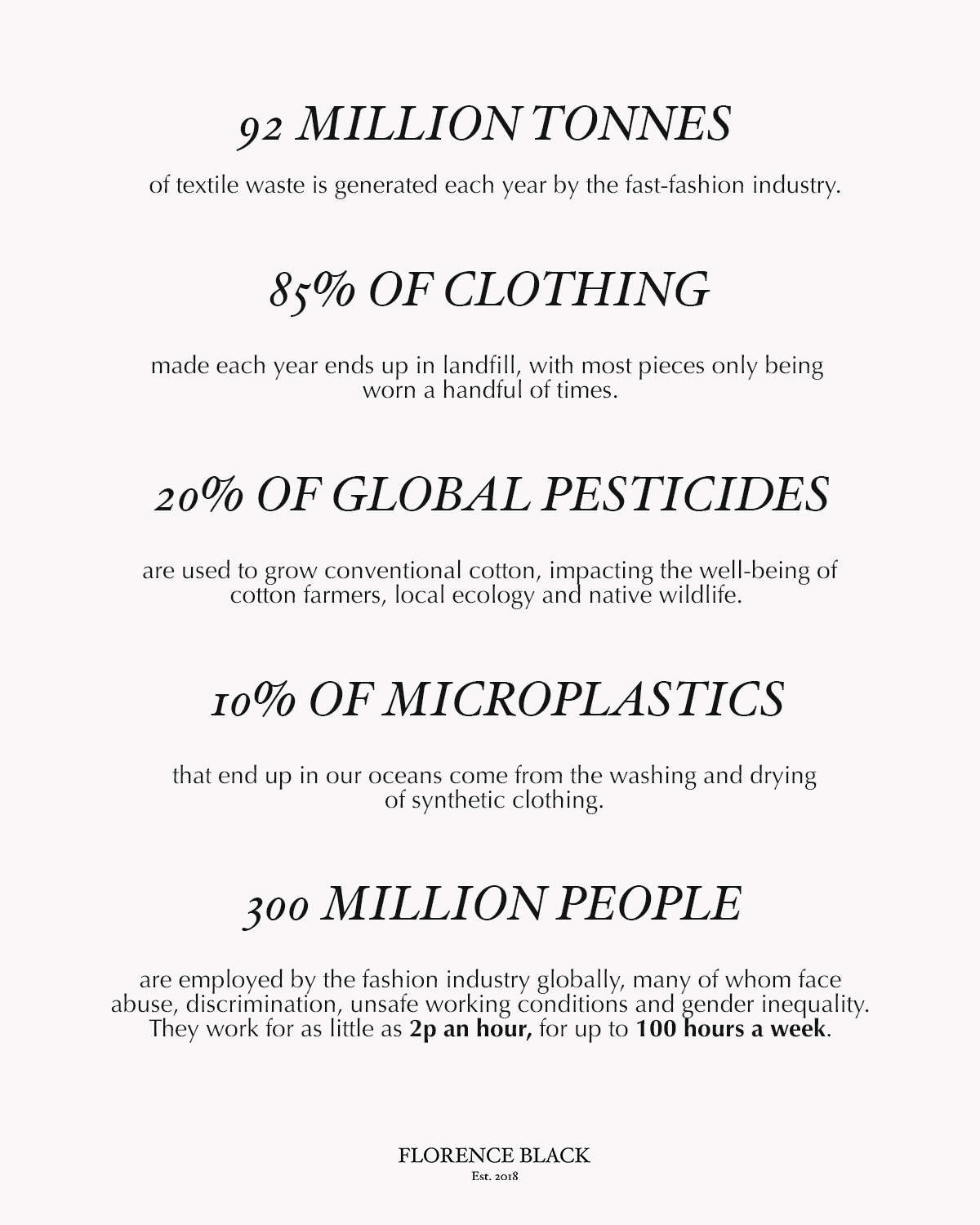 Nowhere is this more prevalent than in the global fast-fashion industry, with its 52 micro-seasons a year. Despite increasing awareness of its detrimental socio-environmental effects, many large labels give little genuine recognition to the tangible harm these events bring to the planet, and its inhabitants. So whilst we may believe we are getting the best deals, it is important to stop and question "but at what cost?" As consumers become more aware of their purchasing impacts, greenwashing terms have become commonplace in fast-fashion rhetoric, and in doing so create a blatant contradiction. So when we see well-known labels showcasing "99% Off" sales during Black Friday, and we can't help but feel uneasy in the pit of our stomachs, it's our conscience calling to sit up and take note.
Eventually, something has to give and it's the responsibility of brands within the industry to role model change.
For this reason, Florence Black is taking this day as an opportunity to do things differently. Many of you have requested a restock of our bestsellers, so we thought "what better opportunity to showcase how considered drops are done than on a day championing the opposite?" In the place of short-lived designs, we are returning to existing classics. This includes a very limited relaunch of your sold-out favourites, as well a small number of key wardrobe staples, but with an upgrade. As is in line with our ethos, we are steering clear of the typical Black Friday approach, synonymous with unsustainable materials and socially unethical practices. Instead, ours will showcase beloved garments that have been designed and crafted locally. From material origination to the end piece, we consider each step of the creation process with a slow fashion mindset. Are we perfect? Not yet, but we are on a journey to becoming the best we can be.
WHY IS SLOW FASHION IMPORTANT?
By its very nature, slow fashion advocates for production processes that benefit the people involved, minimise their impact on the planet, and use materials and techniques that ensure garment longevity. This slow-paced approach allows for pieces to be created on demand, in small-batch collections, which mitigate excessive production waste and reduce consumption. The outcome: versatile, long-lasting clothing created through a fair supply chain, which you can return to season after season.

With a focus on style and individuality, our pieces are designed to weather through the ever-changing storm of fast-fashion trends, providing peace of mind that every hem, stitch and fold is crafted fairly and with love. This Black Friday collection is a continuation of our slow-fashion stance, featuring GOTS combed cotton essentials and 100% pure-wool knits, which are produced right here in the UK. This allows us to reduce our carbon footprint and ensure ethical working environments are adhered to.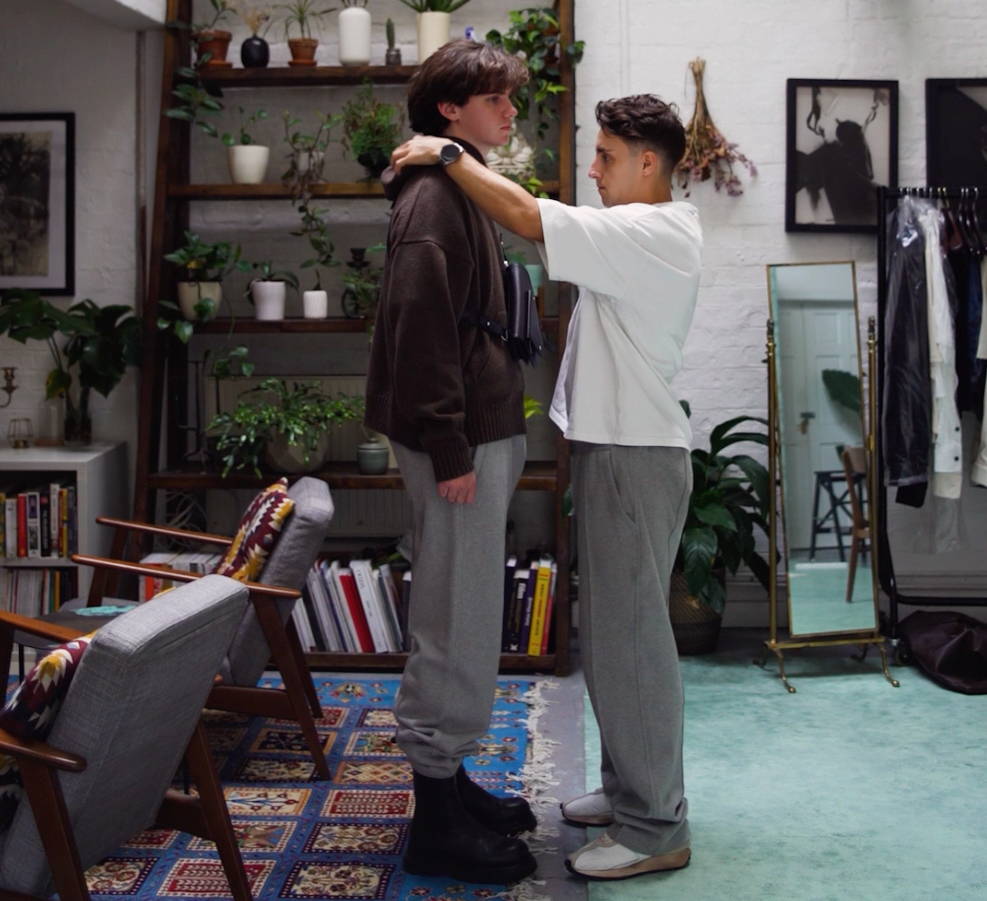 As for the details of the Drop, we have opted to bring back popular Essentials such as the Grey Pleated Sweatpants, the Black Crop Sweater in its V3 form and a new Black Zip Hoodie. Each Essential is made using luxury-weight 570 GSM organic combed cotton, a durable and kinder alternative to conventional cotton. Our Black Crop Sweater V3 features a centre-back seam and a brand-new label. The Grey Pleated Sweatpants provide a relaxed fit, with pleats on both front and back. Our new Black Zip Hoodie features an oversized fit, dropped shoulders and a branded dual zipper. These can be dressed up or down with the rest of your wardrobe.
We are also re-releasing one-off bestsellers, including our Black Boxy Short Sleeve Shirt, in limited numbers. The boxy wide fit with its high, bold collar is finished with a centre-back seam and our signature reverse label. Finally, we are introducing a new variant to our existing knitwear, the Black Reverse Logo Knit Hoodie. Crafted using 100% Australian Lambswool, this knit uses a breathable, super-soft fabric that is gentle on skin, and features unique reverse logo detailing. It is the perfect layering piece for your A/W wardrobe.
BEFORE YOU BUY, CONSIDER ITS USE
By choosing Florence Black and aligning with slow fashion practices this Black Friday, you are not only supporting a small, independent label, but those who make our garments and better production processes for our planet. Plus, you'll get double points for doing so. We hope you enjoy this drop and encourage you to only purchase pieces that will become well-loved and well-used go-tos.