Feels Premium
Starting from the packaging to the overall design and build quality, it feels premium. However, I would just suggest reworking the logo/text a bit for the v2 as it looks a bit stretched and slightly undone. But overall class!
New daily Favorite!
For the Last 4-5 years i was wearing caps or beanies. So Now that i saw My favorite Brand offering These simple yet exciting Caps i Just had to Order one. Wearing it daily for nearly a Month Now without any sign of wear
Perfect
Great piece - the usual FB quality. Will be getting lots of use this winter!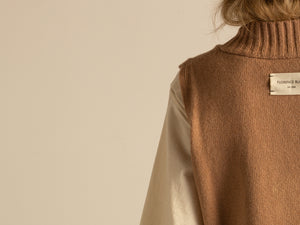 Our Materials
We source the best quality materials from some of the most renowned mills in the world, working only with suppliers that have ethical working practices. We use GOTS certified organic combed cotton and the finest wools from the UK, Italy and Australia, delivering longevity and quality that you can feel, every time you put our garments on.
Our Values
Florence Black has five values that we have built the foundation of our business upon; expression, integrity, authenticity, passion and quality.
We want each person who wears Florence Black to embrace who you are and to love yourself for it. We promise to always act with morals and ethics, never deviating from this, no matter the circumstances. We will always communicate in a real and honest way, bringing our love of design and self-expression into everything we do. Finally, we will create every product and experience to the highest standard, so that it is deserving of those who wear us.