Beautiful sweater
Looks fantastic. Runs a bit smaller than expected but still great. Just a good reason not to gain weight!
Big fan, highly recommend
Feels great and looks fantastic!
I will say though that it runs a bit small in size, I'd recommend going one size up. Unfortunately it seems like the size table doesn't reflect the actual dimensions of the garment, I emailed support in hopes of getting that fixed
So thrilled! Quality timeless pieces
I am beyond happy with the neck sweater. The quality is amazing. The only thing I'm upset about is not getting it in white last season!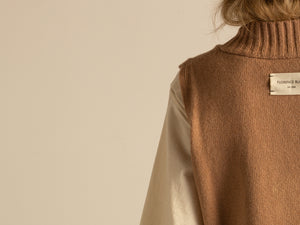 Our Materials
We source the best quality materials from some of the most renowned mills in the world, working only with suppliers that have ethical working practices. We use GOTS certified organic combed cotton and the finest wools from the UK, Italy and Australia, delivering longevity and quality that you can feel, every time you put our garments on.
Our Values
Florence Black has five values that we have built the foundation of our business upon; expression, integrity, authenticity, passion and quality.
We want each person who wears Florence Black to embrace who you are and to love yourself for it. We promise to always act with morals and ethics, never deviating from this, no matter the circumstances. We will always communicate in a real and honest way, bringing our love of design and self-expression into everything we do. Finally, we will create every product and experience to the highest standard, so that it is deserving of those who wear us.