A modern classic
A true staple in my wardrobe - not only an essential, but a modern heirloom. A piece that feels like its been a part of my uniform from the day it arrived, and will be until the day I inevitably buy a second.
Amazing hoodie
Amazing quality and design. A must-have of your wardrobe.
High quality, very good fit
Amazing quality and comfort. If you like a cropped fit to your hoodie this is the one to get!
Been a great hoodie
The best hoodie I own and it's genuinely comfortable. I love how it's perfectly cropped and the color is accurate. Sleeves are a little longer than I'd like but I don't mind too much when I cuff it from the inside.
Good product,Nice design
good quality,profect fit,really love the hoodie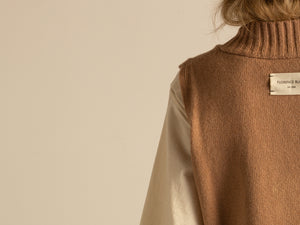 Our Materials
We source the best quality materials from some of the most renowned mills in the world, working only with suppliers that have ethical working practices. We use GOTS certified organic combed cotton and the finest wools from the UK, Italy and Australia, delivering longevity and quality that you can feel, every time you put our garments on.
Our Values
Florence Black has five values that we have built the foundation of our business upon; expression, integrity, authenticity, passion and quality.
We want each person who wears Florence Black to embrace who you are and to love yourself for it. We promise to always act with morals and ethics, never deviating from this, no matter the circumstances. We will always communicate in a real and honest way, bringing our love of design and self-expression into everything we do. Finally, we will create every product and experience to the highest standard, so that it is deserving of those who wear us.