Black beanie
The beanie is very comfortable as you wear it all day or just for a few hours, also the beanie is very well made with the materials used. I would highly recommand buying this beanie i give it 5 out 5 Stars.
Best fitting fisherman beanies
Fit EXACTLY how a fisherman beanies is suppose to fit.
Really happy
I'm really happy with this beanie! This was exactly the size I was looking for. It's not easy to find micro beanies. After sharing it on Instagram stories I received a lot of positive feedback. There is also such a big difference between wool and synthetic materials. In this beanie I never feel too hot and I can leave it on even indoors. Thanks again! I'm wearing it with confidence.
Replacement for AS colour fisherman hat
Hat doesn't really fit like it's shown in photo , found it to fit quite loosely and felt too chunky when wearing , not overly impressed considering it was double the price of my usual choice and a worse fit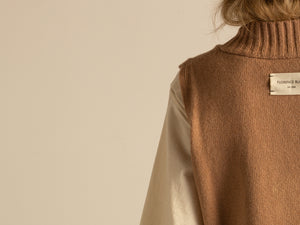 Our Materials
We source the best quality materials from some of the most renowned mills in the world, working only with suppliers that have ethical working practices. We use GOTS certified organic combed cotton and the finest wools from the UK, Italy and Australia, delivering longevity and quality that you can feel, every time you put our garments on.
Our Values
Florence Black has five values that we have built the foundation of our business upon; expression, integrity, authenticity, passion and quality.
We want each person who wears Florence Black to embrace who you are and to love yourself for it. We promise to always act with morals and ethics, never deviating from this, no matter the circumstances. We will always communicate in a real and honest way, bringing our love of design and self-expression into everything we do. Finally, we will create every product and experience to the highest standard, so that it is deserving of those who wear us.