Ordered more
Always looking for this fit of beanie and they nailed it with these, ordered 2 more!
hat
Thank You i love the hat ,very stylish.
However you let your selves down by the packaging. It was just the hat loosely wrapped in tissue paper in a plastic bag with , no branding, paperwork or promotional material.one would expect this from Primark or next but not from a superior brand.
This does not tie in with the stylish nature of your website .it comes across as if you care little for you product or your customers. i have ordered from much smaller companies than yours who take care of how they present their items ,which creates a bond and encourages me to want to buy from them again. Hope this is of help.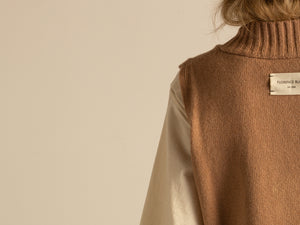 Our Materials
We source the best quality materials from some of the most renowned mills in the world, working only with suppliers that have ethical working practices. We use GOTS certified organic combed cotton and the finest wools from the UK, Italy and Australia, delivering longevity and quality that you can feel, every time you put our garments on.
Our Values
Florence Black has five values that we have built the foundation of our business upon; expression, integrity, authenticity, passion and quality.
We want each person who wears Florence Black to embrace who you are and to love yourself for it. We promise to always act with morals and ethics, never deviating from this, no matter the circumstances. We will always communicate in a real and honest way, bringing our love of design and self-expression into everything we do. Finally, we will create every product and experience to the highest standard, so that it is deserving of those who wear us.