Shirt looks and feels amazing. A little itchy if you wear it on its own, so I recommend wearing a layer beneath it. Super happy with my purchase!
Beautiful product
This is an amazing piece of clothing. Treat this as one of your best investments. You won't be disappointed!
Amazing
This is the best shirt I own. The color, materials, and silhouette are unmatched.
I really like the fit of the shirt I'm really glad I got it
Favorite Top
It fits oversized, so just keep that in mind since that's the whole point, but the construction and silhouette make it such a unique look that you can pull off casual or smart fits. It is expensive, but it is versatile and I think you will get your money's worth.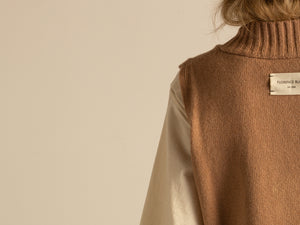 Our Materials
We source the best quality materials from some of the most renowned mills in the world, working only with suppliers that have ethical working practices. We use GOTS certified organic combed cotton and the finest wools from the UK, Italy and Australia, delivering longevity and quality that you can feel, every time you put our garments on.
Our Values
Florence Black has five values that we have built the foundation of our business upon; expression, integrity, authenticity, passion and quality.
We want each person who wears Florence Black to embrace who you are and to love yourself for it. We promise to always act with morals and ethics, never deviating from this, no matter the circumstances. We will always communicate in a real and honest way, bringing our love of design and self-expression into everything we do. Finally, we will create every product and experience to the highest standard, so that it is deserving of those who wear us.