Product came stained and dirty
My item came stained and clearly had be returned by another customer. No pack slip, no return details. Never purchase agin.
Very happy of this purchase
Really love this piece. It's so comfy and I like the way it stacks of the shoes. Also bought it in black.
Exceptional quality
These are a beautiful pair of sweatpants - unlike anything I've seen before in terms of the quality of the fabric and the cut. The pleat stitching on both sides are so well done and makes it that rare sweatpants that can be styled formally and informally to suit the occasion. I can't recommend these enough!
Top quality
Great fit and top quality! A little more than I'd like to pay but one of my favourite trousers now.
Well worth the purchase!!!!
Outstanding fit and quality. Awaiting a re-stock of the black version. Please make it happen Finn!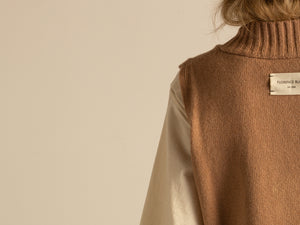 Our Materials
We source the best quality materials from some of the most renowned mills in the world, working only with suppliers that have ethical working practices. We use GOTS certified organic combed cotton and the finest wools from the UK, Italy and Australia, delivering longevity and quality that you can feel, every time you put our garments on.
Our Values
Florence Black has five values that we have built the foundation of our business upon; expression, integrity, authenticity, passion and quality.
We want each person who wears Florence Black to embrace who you are and to love yourself for it. We promise to always act with morals and ethics, never deviating from this, no matter the circumstances. We will always communicate in a real and honest way, bringing our love of design and self-expression into everything we do. Finally, we will create every product and experience to the highest standard, so that it is deserving of those who wear us.