Review
Fits like a glove and couldn't be happier with my purchase
Awesome Sweater
Purchased XL as I'm 6'3". Fits really well. Long sleeves but cropped body. Sits just below my belt. Just what I was after. Material feels a step up in quality compared to other (albeit, cheaper) sweaters I own. Really impressed. Just need to save up for the others. Prompt delivery too.
Unique
The cropped fit, long sleeves, dropped shoulders and double hem makes this sweater very unique—the silhouette might not be for everyone, but if you choose to wear Florence Black, you want to stand out from the crowd.
I love it so much I've also ordered it in gray and brown.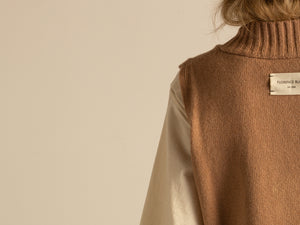 Our Materials
We source the best quality materials from some of the most renowned mills in the world, working only with suppliers that have ethical working practices. We use GOTS certified organic combed cotton and the finest wools from the UK, Italy and Australia, delivering longevity and quality that you can feel, every time you put our garments on.
Our Values
Florence Black has five values that we have built the foundation of our business upon; expression, integrity, authenticity, passion and quality.
We want each person who wears Florence Black to embrace who you are and to love yourself for it. We promise to always act with morals and ethics, never deviating from this, no matter the circumstances. We will always communicate in a real and honest way, bringing our love of design and self-expression into everything we do. Finally, we will create every product and experience to the highest standard, so that it is deserving of those who wear us.