Nice quality - wrong size
The hoodie came in just like the picture on the website. Very high quality but unfortunately, the size I chose was a little bit big (M - 175cm). I tried to return the hoodie and it was said to be received on your end on the 4th of October. It has been a week and I'm very confused since the return portal says the order has been received but I have heard nothing from you about how my refund is going to be processed. Really like the brand but would love to be kept updated about the refund process.
Amazing hoodie
It was amazing and super comfy. I also got the grey one. I really like the crop design, and that was exactly what I was looking for for a pretty long time. Very happy with the purchase.
Outstanding piece
A simply beautiful hoodie - a nice boxy and cropped silhouette with hidden drawstrings and no kangaroo pocket, which is exactly what I was looking for. The material is high quality and feels very comfy. I can't stop wearing it ever since I got it.
I'm around 183cm tall and went for a size L - it gives me a perfect oversized look and still allows looser jackets and coats to fit on top.
Excellent, luxurious Hoodie
I'm in love with this hoodie; it's the right combination of high-quality material, an innovative style, and a stunning color. I really like the size of the hood, and I have to highlight how heavy it is. I've purchased several hoodies ranging from Patagonia to Cole Buxton, and this is by far the most luxurious feeling and hence my favorite hoodie.
Btw, I am 177cm or around 5'10″, and M fits very well.
Best fitting hoodie
Tried to find the perfect cropped hoodie. Finally found it! The shuttle details is what makes this an amazing item. Enough to make me get rid of my other brands. One bit of advice would be to find a way to hide the tassel as they do pop up more than I would like.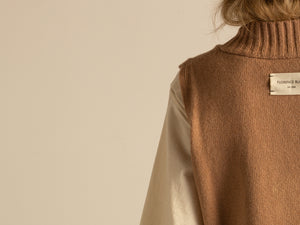 Our Materials
We source the best quality materials from some of the most renowned mills in the world, working only with suppliers that have ethical working practices. We use GOTS certified organic combed cotton and the finest wools from the UK, Italy and Australia, delivering longevity and quality that you can feel, every time you put our garments on.
Our Values
Florence Black has five values that we have built the foundation of our business upon; expression, integrity, authenticity, passion and quality.
We want each person who wears Florence Black to embrace who you are and to love yourself for it. We promise to always act with morals and ethics, never deviating from this, no matter the circumstances. We will always communicate in a real and honest way, bringing our love of design and self-expression into everything we do. Finally, we will create every product and experience to the highest standard, so that it is deserving of those who wear us.